Sama seperti postingan sebelumya tentang port forwarding di modem Indihome, tpi sekarang karena lokasi server di koneksi-kan di router Mikrotik artinya Modem indihome can't any longer connect to server because different segment of ip addresses (atau beda gateway).
Karena modem indihome gak bisa konek ke server jadi ip-dynamic.com yang kita setting port-forwarding-nya pun otomatis gak akan bisa konek juga. Jadi solusinya…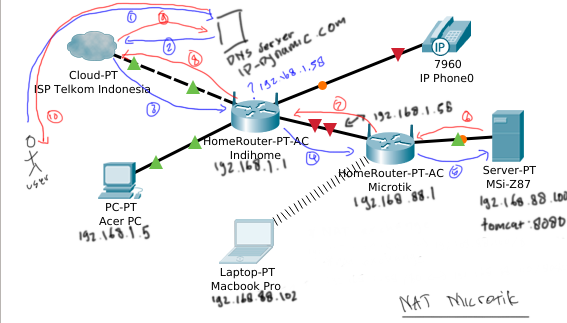 Ada beberapa step yang harus di setting supaya ip-dynamic.com bisa membaca port-forwading yang udah di setup tapi lewat mikrotik tahap pertama saya mau setup dulu port forwarding di modem indihome.
Setup modem indihome
Sebelumnya khan kita udah setting port-forwardingnya seperti berikut:

Nah sekarang kita ganti ip-target nya menjadi ip address mikrotik router yaitu 192.168.1.58 seperti berikut:

Setup NAT di mikrotik
Ok, setelah mengubah ip-address, sekarang membuat NAT dengan cara buka menu IP -> Firewall -> NAT -> New Nat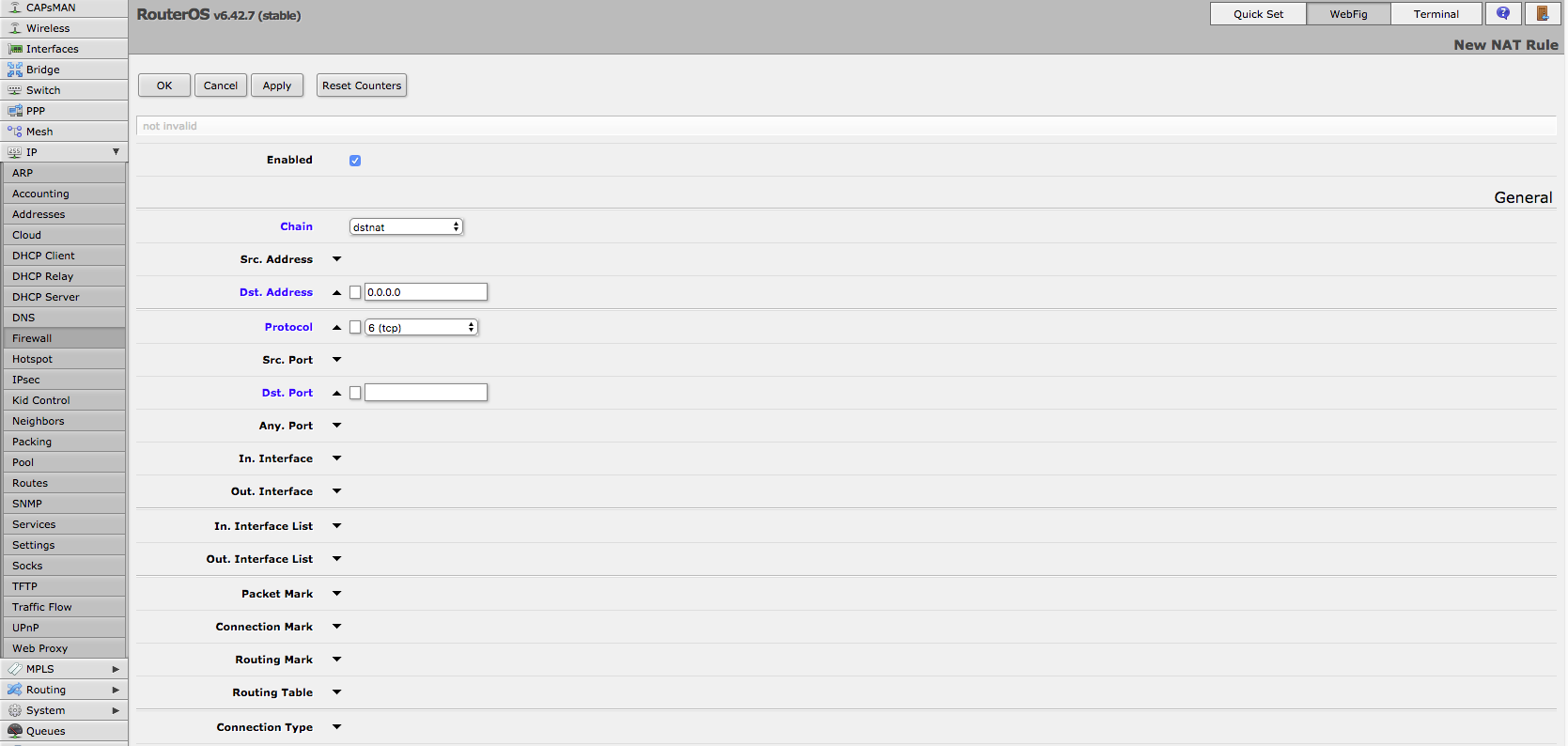 Settings menu general, seperti berikut:
enabled: di checklist
chain: dstnat
Dst.Addresses: Masukan ip microtik di modem indihome yang saya setting adalah 192.168.1.58
protocol: Pilih 6 (tcp)
Dst.Port: Masukan port yang di forward dari modem indihome contohnya 80 atau 8080
Masih scroll ke bawah di bagian menu Action: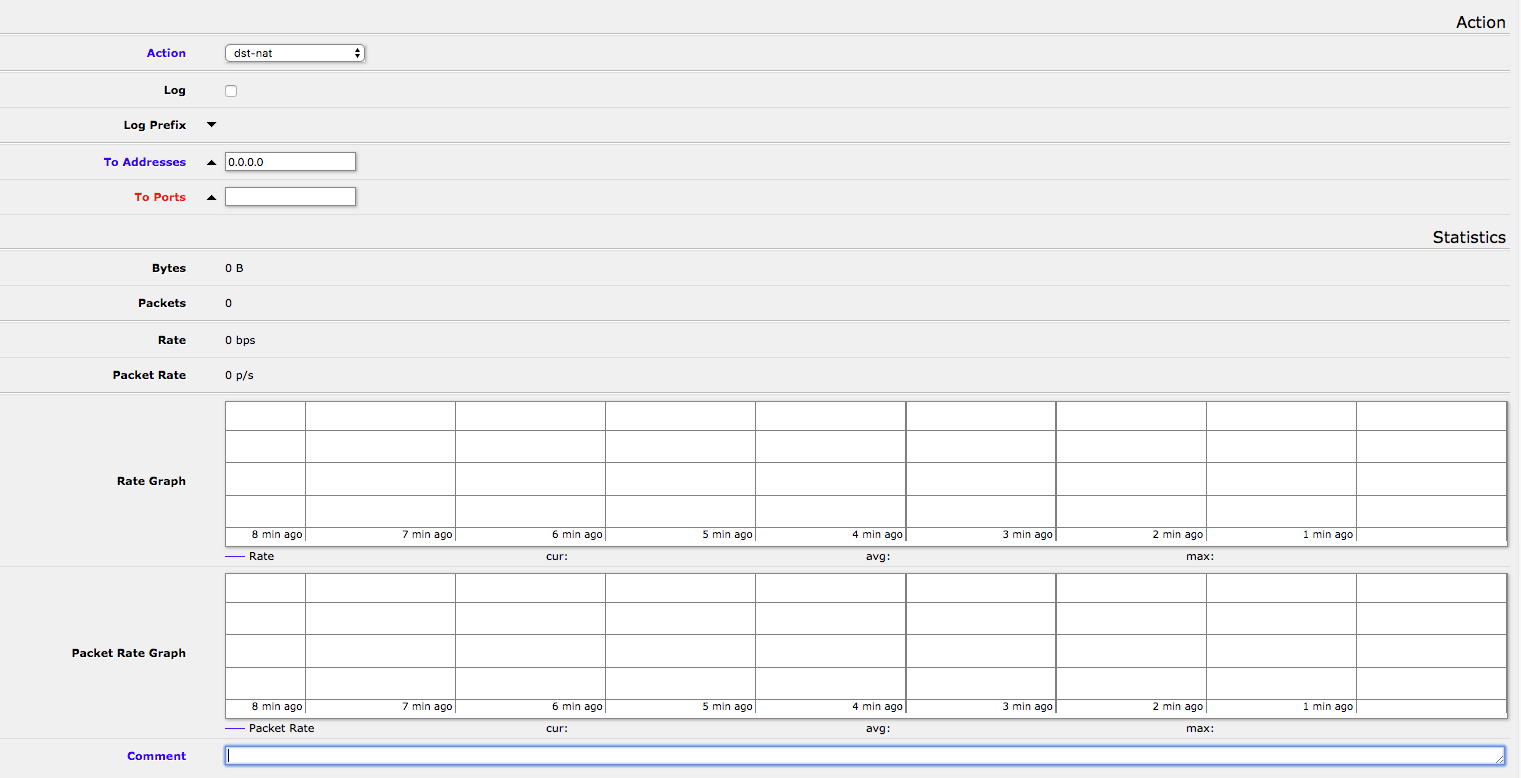 Setting menu action, seperti berikut:
Action: pilih dst-nat
To address: Masukan ip-address server yang di koneksikan ke microtik contohnya 192.168.88.100
To Port: Masukan port yang mau di forwarding dari ip-address server contohnya 80 atau 8080
Comments: isi descripsi ini dengan sejelas mungkin untuk apa (optional)
Sekarang harusnya configurasi ip-dynamic.com -> indihome -> Mikrotik -> Local Server sudah benar. Silahkan coba check di terminal dengan perintah (Microtik Terminal)
/tool tracepath your.ip-dynamic.com